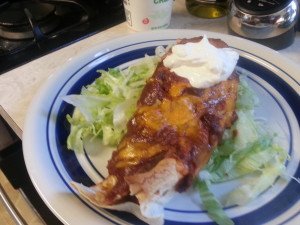 I probably should have posted this yesterday for Cinco de Mayo, but if you are looking for a great way to spice up your dinner this week, these enchiladas are the way to go!
Enchiladas are a great way to use up leftover meat. I have made them with chicken, pork, ground beef and even leftover French Onion Brisket, which is what I used in this recipe. I make my enchilada sauce from scratch. Trust me, it's easy.
Enchilada Sauce (make this first)
3 tablespoons vegetable oil
1 tablespoon flour
1/4 chili powder
2 cups chicken stock
6 oz tomato paste
1 teaspoon dried oregano
1 teaspoon ground cumin
salt to taste
cayenne pepper (optional)
Note: Make sure to have chicken stock measured and ready to go before you start so you don't burn the chili powder.
Heat oil over medium heat in a saucepan. Stir flour into the oil and cook for about one minute. Stir in chili powder and cook for 30 seconds. Add stock and tomato paste, stirring to combine. Add oregano, cumin and salt. This sauce is rather mild so if you want to kick it up a bit, add a pinch of cayenne pepper. Once this comes to a simmer, reduce the heat to low while you start the enchilada mix.
Enchilada filling
1 cup diced onion
1 cup diced green pepper
2 cups chopped cooked meat (chicken, beef, pork, or turkey)
1 15oz can black beans, rinsed and drained.
1 4oz can diced green chilis
1 cup enchilada sauce
1 cup shredded cheddar cheese (I highly recommend you shred it yourself)
Additional ingredients
flour or corn tortillas (I use burrito size but you can use smaller)
enchilada sauce
additional shredded cheese
Preheat the oven to 350 degrees. Add a bit of oil to a non-stick skillet over medium heat. Add onion and pepper and cook until the veggies start to get soft, about 3 or 4 minutes. Add the meat, heating through about 4 minutes. If you are using French Onion Brisket, the meat will start to shred as it heats up.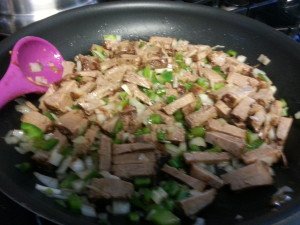 Add black beans and green chilis. Stir to combine.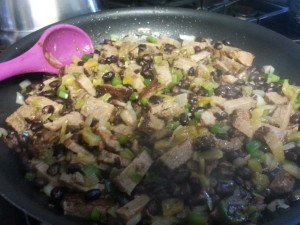 Looking good! Cook the mixture for 3 to 4 minutes until heated. Then add 1 cup of enchilada sauce and 1 cup of cheese. Stir everything together.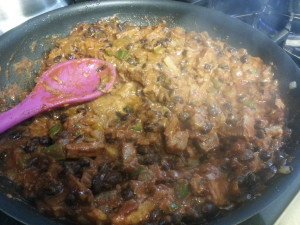 Turn down the heat. Now you are ready to assemble. Heat your flour tortillas in a clean skillet or place them on a plate and cover with a damp town and microwave for 30 seconds. Place a tortilla on your work surface. Add about 3/4 cup of the meat mixture to the tortilla. I add it off center to make rolling easier.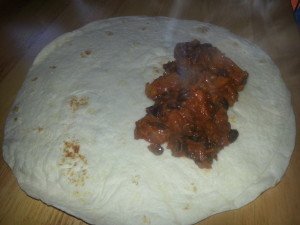 Roll the enchilada up tightly and place in a 9 x 13 baking pan that has been greased or lined with foil. Keep filling enchiladas until you run out of filling. If you start running out of space in your pan, squeeze the enchiladas up tight or start a second pan.
When finished top with remaining enchilada sauce and cheese.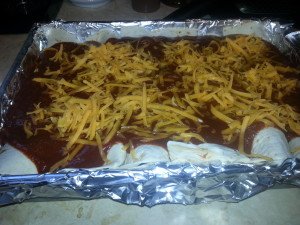 Bake at 350 for 20-30 minutes, until the edges of the tortillas are browned and the cheese is melted. Enjoy!