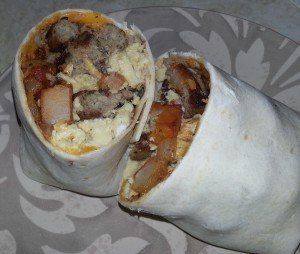 After having an entire week off from cooking, having been on a cruise ship for a week, I have to ease back into the cooking routine. Breakfast sounds like a great way to do this! I had previously taken some pictures of my breakfast burritos but I deleted them by accident so I just had to make one this morning. 
This is a super easy recipe to make and it scales very well for one person or a large group. If you are expecting a crowd for breakfast, you can set up a burrito station and let everyone make their own. This is a great way to use up leftover homefries or just make a new batch. You can also make a lighter version by substituting Egg Beaters, turkey sausage and whole wheat tortillas. You could also make a vegetarian version by omitting the sausage and adding peppers, onions and mushrooms to your eggs.
What you'll need (for each burrito):
1/2 cup home fries (if using leftover home fries, you can reheat them in the microwave or on low in a non-stick skillet)
2 sausage links or patties (you could also use bacon or ham)
2 eggs
pinch each of chili powder and cumin
shredded cheddar cheese
1 large flour tortilla
Make or heat up your home fries. Heat up your sausage. As the potatoes were finishing up, I made a bit of room at the edge of the pan and browned the sausage. Remove the potatoes and sausage from the pan. Whisk the eggs, chili powder and cumin in a small bowl. Add to the empty skillet and cook over medium heat, stirring frequently until firm. Heat the tortilla on a microwave safe plate for 20-30 seconds. Add cheese, potatoes, sausage and egg to the tortilla and roll it up. Serve with sour cream and salsa, if desired.