I've been on a bit of a health kick lately.  A few years ago, I lost 20 lbs and since then I have made no additional progress. I have started tracking my food intake again and have been making decent progress. I'm doing very well for breakfast and dinner but lunch is something I have been struggling with. I need something that will fill me up without using up all my calories for the day. While looking through the cabinets today, I saw a bag of quinoa.
I have played with quinoa in the past, making various salad recipes but nothing really clicked. Looking at the bag today, I started to think about fried rice. I pulled together some ingredients, made the quinoa and started to cook. I was a little worried about the consistency of the quinoa. I really don't like it cold but maybe hot would be better.
Hot is definitely better. I didn't miss the rice at all. The portion size was great and it really filled me up. I punched all the ingredients into the MyFitnessPal recipe generator and one serving is 267 calories. Yup, that's right. I got a huge bowl of "fried rice" with only 267 calories. This my friends is a huge win for me. I will be making double batches of this in the future to reheat during the week. I think I found my new favorite lunch.
Did I mention it's quick? This recipe takes about 15 minutes to make, mostly because you are waiting for the quinoa to cook. Start the quinoa before dicing the vegetables. Don't worry, you'll have enough time while the quinoa cooks.
Quinoa Fried "Rice"
Total time: 15 minutes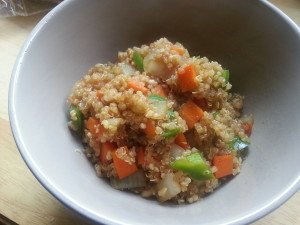 If you wanted to bulk this up or make it for dinner, you could add some scrambled egg or meat to it. This dish is vegetarian. You can also change up the vegetables depending on what you have on hand. This recipe is great for using up little bits of things. I had carrots, peppers and onions so that is what I used. I used a bit of nonstick cooking spray in the skillet instead of oil to keep the calories down.
What you'll need:
1/2 cup quinoa
1 cup water
1 large carrot
1/2 yellow onion
1/2 large green pepper
2 cloves of garlic
2 tablespoons hoisin sauce
1 tablespoon soy sauce
In a small sauce pan, combine quinoa and water. Bring to a boil then cover and reduce to a simmer. Cook until the liquid is fully incorporated into the quinoa.
While the quinoa is cooking, dice your vegetables. Spray a nonstick skillet with a bit of cooking spray and turn the heat to medium high. When the skillet is hot, add the carrot, onion and pepper. Saute, stirring frequently until the vegetables start to soften. This should take about 5-8 minutes. Add the garlic and turn down the heat to medium low. Stir in the garlic and cook until fragrant. It should only take about a minute.
Your quinoa is now probably ready. Add the quinoa to the skillet, stirring to combine with the vegetables. Drizzle the hoisin and soy sauce over the top of the quinoa and stir to combine.
This week, our grocery budget is a bit tight so I'm trying to creatively use up things we have around the house. I came up with this recipe after being inspired by a recipe in my favorite cookbook: The Cook's Illustrated Cookbook
.
This recipe is fast and easy. You might have everything you need on hand. You can use whatever vegetables you want to use up. Squash would be great. In this version, I used onions, roasted red peppers and mushrooms. You can also use whatever pasta you have. I used rigatoni because I like tube pasta with sliced chicken. Any cut pasta would work well here.
This is a great summer dish. You can grill the chicken outside or use a grill pan on the stove.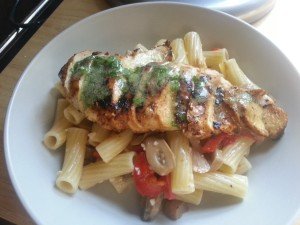 Grilled Lemon Chicken with Vegetable Rigatoni
For the marinade:
3 tablespoons olive oil
1 tablespoon lemon juice (I used True Lemon
and 1 tablespoon of water)
1 teaspoon sugar
1 and 1/2 teaspoons salt
1/2 teaspoon black pepper
2 tablespoons water
3 cloves garlic minced
For the sauce:
3 tablespoons olive oil
1 tablespoon lemon juice
1 tablespoon fresh minced parsley
1/2 teaspoon sugar
1 teaspoon dijon mustard
1/4 teaspoon salt
1/4 teaspoon black pepper
4 boneless chicken breasts
1 lb rigatoni or other cut pasta (ziti, penne, rotini)
6 tablespoons salted butter
2 cups vegetables (onions, peppers, squash, mushrooms, etc), sliced thin
2 cloves garlic, minced
Prepare marinade. Place chicken in a gallon-sized zipper bag and pour marinade over chicken. Seal bag, getting as much air out of the bag as you can. Marinate the chicken for 30 minutes to an hour, flipping the bag once during the process.
While chicken is marinating, combine all the ingredients for the sauce in a small bowl or measuring cup and set aside. Get your pasta water on so it can get to a boil.
Once the chicken has marinated, remove from the bag and discard the marinade. You can grill it on a gas or charcoal grill or in a grill pan (which is what I used). Cook the chicken to 155 degrees, flipping once to get nice color on both sides of the chicken. Let the chicken rest for 5-10 minutes. While resting, it will keep cooking so make sure not to overcook the chicken before you pull it off the grill. At 155, my chicken was fully cooked after resting and still very juicy.
Cook the pasta according to package directions in a large pot, while the chicken is cooking. Once the pasta has drained, add the butter to the now empty pot and melt over medium to medium-high heat. Add the vegetables and saute until slightly softened, stirring frequently, about 3-5 minutes. Add the pasta to the vegetables and stir to combine. You can leave the pasta on low heat while you finish the chicken.
After the chicken has rested, cut each chicken breast into thin slices on an angle. Place pasta on a plate or in a flat bowl, top with chicken and drizzle with sauce.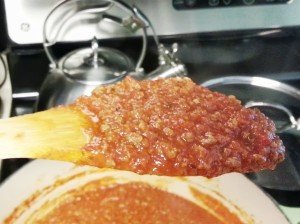 We do a lot of Italian cooking in our house. Sometimes I do more complex things like pizza, meatballs or chicken cacciatore, and sometimes I just want a nice simple bowl of spaghetti and meat sauce. While most bolognese sauces take hours to prepare, you can make this start to finish in about an hour, most of which is just simmering so it's not hands on time. This recipe uses simple ingredients to bring in huge flavor and create a tender meat sauce. Please be advised: this recipe will cause cranky family members as the aroma floats through the house. There was much whining in my house when I made it. Continue reading →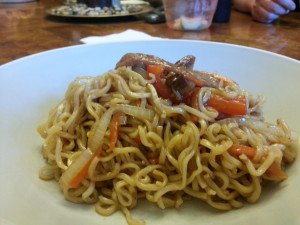 When my sister-in-law moved in a few weeks ago, we combined pantries in an attempt to save on groceries. In her stash, I found two and half CASES of ramen noodles. Not those little 24 pack cases but over 120 individual packets of ramen. I'm pretty good when presented with pantry stuff that needs to be used up, but what the hell were we going to do with that much ramen? No one particularly likes to eat ramen prepared per package directions and I'm fairly certain that the amount of sodium in those little flavor packets might kill us all. I needed to use the noodles for something. Ramen lo mein seemed like an obvious choice. Continue reading →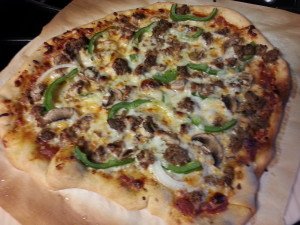 Yes, you can make amazing pizza at home. No it doesn't take all day, although you do need some time for the dough to rise. No, you don't need a special oven. And yes, you can do this. Oh, and did I mention it's sort of healthy? Continue reading →