This week, our grocery budget is a bit tight so I'm trying to creatively use up things we have around the house. I came up with this recipe after being inspired by a recipe in my favorite cookbook: The Cook's Illustrated Cookbook
.
This recipe is fast and easy. You might have everything you need on hand. You can use whatever vegetables you want to use up. Squash would be great. In this version, I used onions, roasted red peppers and mushrooms. You can also use whatever pasta you have. I used rigatoni because I like tube pasta with sliced chicken. Any cut pasta would work well here.
This is a great summer dish. You can grill the chicken outside or use a grill pan on the stove.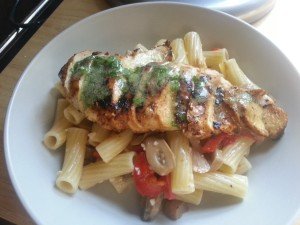 Grilled Lemon Chicken with Vegetable Rigatoni
For the marinade:
3 tablespoons olive oil
1 tablespoon lemon juice (I used True Lemon
and 1 tablespoon of water)
1 teaspoon sugar
1 and 1/2 teaspoons salt
1/2 teaspoon black pepper
2 tablespoons water
3 cloves garlic minced
For the sauce:
3 tablespoons olive oil
1 tablespoon lemon juice
1 tablespoon fresh minced parsley
1/2 teaspoon sugar
1 teaspoon dijon mustard
1/4 teaspoon salt
1/4 teaspoon black pepper
4 boneless chicken breasts
1 lb rigatoni or other cut pasta (ziti, penne, rotini)
6 tablespoons salted butter
2 cups vegetables (onions, peppers, squash, mushrooms, etc), sliced thin
2 cloves garlic, minced
Prepare marinade. Place chicken in a gallon-sized zipper bag and pour marinade over chicken. Seal bag, getting as much air out of the bag as you can. Marinate the chicken for 30 minutes to an hour, flipping the bag once during the process.
While chicken is marinating, combine all the ingredients for the sauce in a small bowl or measuring cup and set aside. Get your pasta water on so it can get to a boil.
Once the chicken has marinated, remove from the bag and discard the marinade. You can grill it on a gas or charcoal grill or in a grill pan (which is what I used). Cook the chicken to 155 degrees, flipping once to get nice color on both sides of the chicken. Let the chicken rest for 5-10 minutes. While resting, it will keep cooking so make sure not to overcook the chicken before you pull it off the grill. At 155, my chicken was fully cooked after resting and still very juicy.
Cook the pasta according to package directions in a large pot, while the chicken is cooking. Once the pasta has drained, add the butter to the now empty pot and melt over medium to medium-high heat. Add the vegetables and saute until slightly softened, stirring frequently, about 3-5 minutes. Add the pasta to the vegetables and stir to combine. You can leave the pasta on low heat while you finish the chicken.
After the chicken has rested, cut each chicken breast into thin slices on an angle. Place pasta on a plate or in a flat bowl, top with chicken and drizzle with sauce.