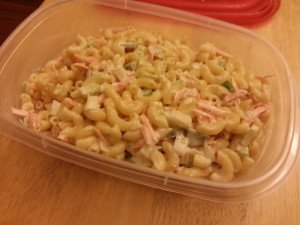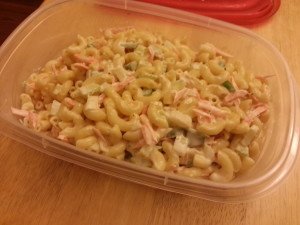 As the weather (slowly) starts getting warming, my meal plans transition to summer foods. We cut back on soups, stews and heavier dinners; adding sandwiches, hamburgers and hot dogs to the rotation. Instantly, my brain starts thinking of macaroni salad. Deli-style macaroni salad is delicious but generally comes prepackaged to the grocery store in large tubs, loaded with preservatives along with a hefty price tag ($4.99 a pound? Really?).
Over the years I have experimented with different recipes trying to mimic the grocery store goodness. I've played with different veggies, different vinegars, different mustards, no mustard, and mayo/mustard/vinegar ratios.  When I stumbled upon this combination, I stopped tinkering.
If you like your salad creamier, add a bit more mayo. If you like it a bit more tart, add more vinegar. The great thing with home cooking is the ability to tinker so the finished product is perfect for you.
Deli-style macaroni salad
8oz elbow macaroni
1 Tablespoon Dijon mustard
3 Tablespoons red wine vinegar
1/2 mayo (I use Hellmans)
salt and pepper to taste
1/4 cup diced red or yellow onion
1/4 cup diced green pepper
1/4 cup diced celery
1/2 cup shredded carrot
Cook elbow pasta in salted, boiling water to your liking. I like my pasta to have a bit of a bite to it.
While the pasta is cooking, whisk mustard and vinegar together in a medium sized mixing bowl. Add mayo and whisk until smooth. Whisk in a pinch of salt and pepper.
Drain your pasta and rinse with cold water. I find that if you add warm pasta to the dressing, the pasta soaks up the dressing and your pasta salad will be dry. I rinse my pasta until it is cold. Let the pasta drain well or you'll have watery salad. I shake it a few times then let it sit for a few minutes and shake again.
Add the pasta and vegetables to the dressing. Stir to combine. Test the salad. Adjust the dressing as needed if you like.