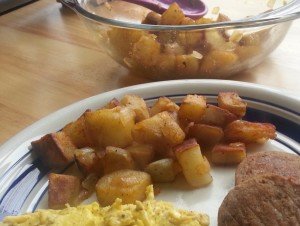 Two things I love in life: A clean kitchen and home fries with breakfast. With our busy lifestyle (working, meetings, volunteering, etc, etc, etc), it can be difficult to find time to clean the house and put good food on the table. This recipe lets me multitask and accomplish both tasks. I make these at least once a week, usually on Saturday or Sunday morning which gives me time to get my kitchen clean and organized after a busy week.
I looked for a long time for  a great home fries recipe. A lot of the recipes I tried offered mushy, bland home fries that made me want to put the pan in the sink and head to a local restaurant. Then I stumbled upon this recipe and knew I had found a winner.  The home fries are slightly crispy, yet tender on the outside with great flavor. This recipe is based on a home fries recipe from The Cook's Illustrated Cookbook
, which is my go-to cookbook when trying to figure out a new technique or recipe. This is a great investment when trying to cook from scratch.
Start by collecting up your ingredients. I usually use two large russet potatoes and half a yellow onion for two people. You can add more potatoes and onions for a crowd or adjust the onions based on your liking. The onions give the home fries great flavor. You will also need a medium sauce pan and a nonstick skillet large enough to spread out the potatoes in a single layer. If necessary, I have used a 12-inch and a 10-inch pan at the same time to make home fries for a crowd. The only other ingredients needed are olive oil, salt, pepper and paprika.
Usually when I make a recipe that requires chopping, I do all my chopping at once and then continue on with the recipe. For my home fries, I do things a bit differently. Preheat your nonstick skillet on medium heat while chopping your onions. Add a bit of olive oil to the pan and add the onions, spreading them in a thin layer. You will be cooking the onions for about 8-12 minutes so you might as well get those going while you do other things.
While the onions start cooking, peel the potatoes and cut into 1/2 – 3/4 inch cubes. Add the potatoes to the sauce pan, cover with cold water and put over high heat, uncovered. Check your onions.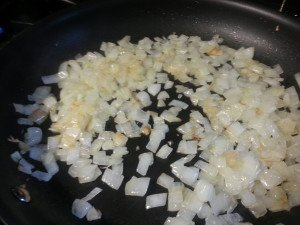 You should see them starting to get color. Low and slow is the method here. Stir them occasionally to make sure they brown evenly. Once they are cooked to your liking, put them in a bowl. I use a slotted spoon to reserve as much oil as I can.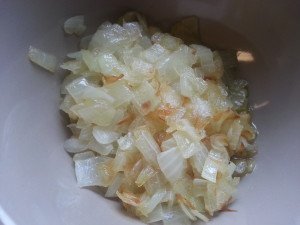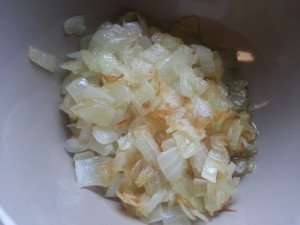 You want the onions to be translucent with just a bit of color. They will get some additional time in the pan when you add them to the potatoes.
Speaking of potatoes, your potatoes should now be just coming to a boil. You don't want to fully cook them. As soon as the water starts to boil, drain the potatoes. Add a bit more oil to the skillet and add the potatoes. Spread them out in the pan into a single layer. Increase the heat to medium high and set your timer for 5 minutes. WALK AWAY, WALK AWAY NOW!
Some of you might be thinking where the "clean kitchen" comes from. So far we've talked about peeling, chopping, a pot, a pan. Now we start cleaning. At this point, I will empty my dishwasher and refill as needed. I like to wash the sauce pan, cutting board and knife. This will take approximately five minutes. Check the potatoes. You should start seeing a bit of browning start to creep up the sides of the potatoes. Flip the potatoes with a spatula or if you can just flip them in the air like a pro.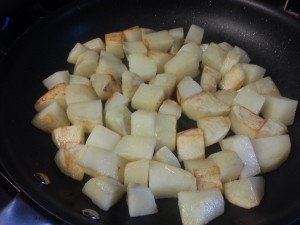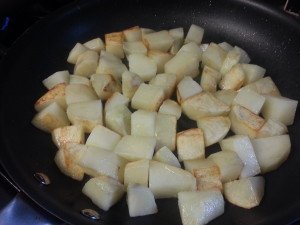 You can see some slight browning. Spread them back out so each piece gets contact with the pan. Set the timer for another five minutes. I take this opportunity to clean off the counters and wipe them down. I also clean my sink and see if the trash needs to be emptied. About this time, the timer goes off again. Time to flip again!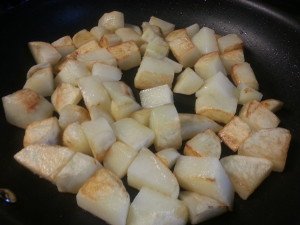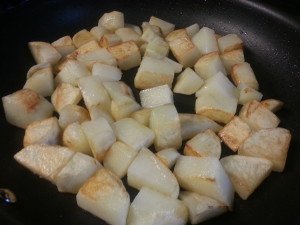 Keep setting the timer for 5 minutes and keep cleaning until you get the desired color. I can get the floors swept and mopped with the Swiffer by the time I'm ready to do the last flip.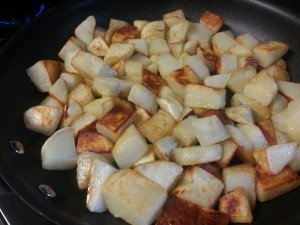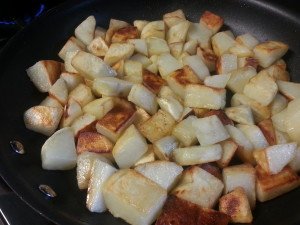 Don't they look good? Now add the onions back to the pan, add a pinch of salt, pepper and 1 teaspoon of paprika. Flip or stir everything together and get ready to devour! This is such an easy recipe. The key is to make sure you let the potatoes cook undisturbed. Make breakfast AND clean the kitchen at the same time. Win!