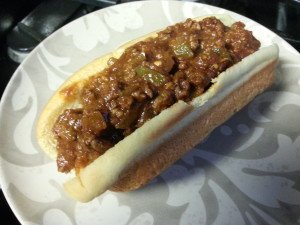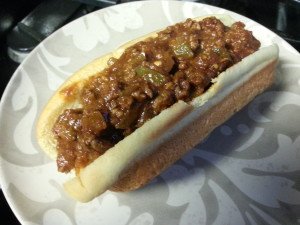 You didn't think something like sloppy Joes could be amazing, did you? If you are like I am, you remember mom browning hamburger and adding a can of tomato man-stuff to the pan. The flavor was a bit flat, but it was a quick dinner on the table. These sloppy Joes are quick but have wonderful flavor, smoky and sweet but not spicy. This is a great family dinner. Just add some veggie sticks.
What you'll need:
1 1/2 lbs of ground beef
1 chopped onion
1 chopped green pepper
1 6oz can of tomato paste
3 cloves of minced garlic
the seasonings (see below)
1 tablespoon white vinegar
8 hot dog or hamburger buns
shredded cheddar cheese (optional but highly recommended)
The seasonings:
2 tablespoons chili powder
1 teaspoon of paprika
2 teaspoons of cumin
2 tablespoons brown sugar
1 teaspoon oregano
1/2 teaspoon salt
1/2 teaspoon black pepper
Over medium high heat, brown hamburger until no longer pink. While your hamburger is browning, mix up the seasonings. Things are going to move pretty quickly once the hamburger is done so it really helps to have the spice mix together. Add the onion and green pepper. Cook for 2 to 3 minutes. Reduce the heat to medium and add the garlic; cook for another minute. Add the tomato paste, seasonings and white vinegar. Using the empty tomato paste can, add 2 cans of water and mix everything together well. Let the mixture simmer for 5 to 10 minutes or until the sauce is thick.
I like to serve these in hot dog buns to reduce the mess. I also like to sprinkle a little freshly shredded cheddar in the bun before adding the meat sauce. If you want to ramp up the nutrition, you can add some shredded carrot with the onions and green peppers. I just like to serve mine with carrot sticks.
As I am writing this post, I was actually eating the sloppy joe pictured in this post. I have to tell you, these are SO good and so easy. Stop buying the canned stuff or the seasoning packets that are loaded with salt and preservatives and give this recipe a shot. I promise, it is a keeper.